trichology scalp treatments
personalized treatments and products
Trichology is the branch of dermatology that deals with the scientific study of the health of hair and scalp.
We offer CR Lab Trichology treatments. The first step is a complete scalp analysis using Tricotest® technology. This analysis measures hydration, sebum levels, pH and lets us look at a 200 x magnification of your scalp and hair. Based on the results, we will recommend personalized treatments and products that will promote a healthy scalp, minimize hair loss and help you get thicker, shinier hair.
What is a Scalp Analysis?
This is a painless procedure that allows us to capture and enter your detailed information into a software program which will let you know the correct protocol to follow to correct any deficiencies which will help maximize a healthy scalp and healthy hair growth. We are always looking for the best help for our clients and we believe this is something that all men and women can really benefit from. Complete the form below to set up a visit where we can further educate you.
Hair Loss Prevention Line
The CR LAB HAIR LOSS PREVENTION PROTOCOL
provides two months of treatment and works fighting hair loss and giving volume, strength and new life to miniaturized, thin and weak hair. To achieve these results, our products work in several ways: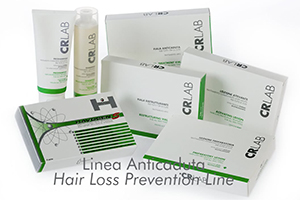 More Details
Dermopurifying Action
Purifies the scalp, reducing the bacteria load and fighting the presence and formation of free radicals. These free radicals are harmful for hair growth because they can have a negative effect on hair metabolism.
Anti-hair Loss Action
The active ingredients in our products (like Serenoa Repens extract) inhibit 5-alpha-reductase activity, the primary cause of hair loss and hair miniaturization.
Regenerating Action
This mixture of well studied essential oils stimulate microcirculation, increasing oxygen and nourishment to the hair root, enabling the scalp to eliminate toxins.
Apple stem cells are utilized in this CRLAB Protocol, because of their capability in stimulating cell growth and in reinforcing hair bulb metabolism.
We select for this line the Ruby Gemstone: for its strength, energy and vitality: it is a great reserve of small but essential minerals like Chrome or Iron, great for strengthening hair.
Plant stem cells: APPLE | Gemstone: RUBY | Essential oil: EUCALYPTUS, LEMON, MINT
Sebum Regulating Protocol
THE CR LAB SEBUM REGULATING PROTOCOL
(also for greasy dandruff) purifies the scalp and frees it from excess sebum (oily) production that could affect hair bulb metabolism. The excess sebum (caused by hormones, stress, food, etc.) could have a very negative influence on hair quality, making it dirty, heavy, weak and thin.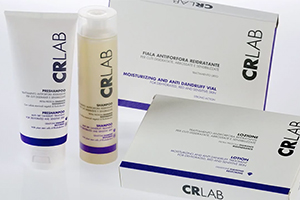 More Details
To provide strength to the hair, the protocol works on the scalp thanks to a well-studied essential oil mixture with great "astringent" capacity and several plant extracts with a high nutritive activity. We want to underline the jojoba extract that has a lipid composition similar to normal human sebum and the avogado extract, a regulator of sebum production. The Laminaria extract and the Fomes extract have a very strong astringent capability, leaving the hair root free from excess sebum. The azelaic acid is a strong antibacterial agent with the capacity to control sebum production. This Protocol is highly effective also for oily dandruff because the formula's active principles fight Malassezia Furfur formation, the contributing cause of dandruff formation and recurrence. The Edelweiss Plant stem cells are added to this Protocol because of their balancing and regenerating action. We select for this line the Sapphire Gemstone: it reinforces hair bulb metabolism providing important microelements for healthy hair growth.
Anti-Dandruff Moisturizing Line
THE CR LAB ANTI-DANDRUFF MOISTURIZING LINE
The CRLAB Moisturizing ANTIDANDRUFF PROTOCOL provides two months of treatment and fights persistent dry dandruff, helping those with irritations, scalp tenderness, redness, itch, etc.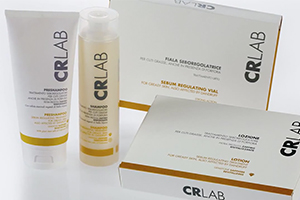 More Details
Due to the great soothing properties of these products, the essential oils of this Trichological Protocol have the capacity to stop dehydration (enhancing the scalp moisturizing) and have a soothing and rejuvenating effect.
The alpha-hydroxy-acids have a deep regenerating effect due to strong "keratinolytic" activity
Hydrolyzed collagen restores the scalp connective layer and provides moisturizing action.
Dandruff recurrence is avoided, by using antibacterial agents that fight Malassezia Furfur proliferation, the main contributing factor of dandruff formation.
Rhododendron plant stem cells: this provides regenerating capability.
We select for this line the Diamond Gemstone: it purifies the scalp due to its exfoliating properties.
Plant stem cells: RHODODENDRON
Gemstone: DIAMOND
Essential oil: JUNIPER, BITTER ORANGE, ROSEWOODSEB
Preventive Care and Maintenance
THE CR LAB DAILY CARE LINE
It's important to wash your hair every day or as often as possible. Like the skin on your face and body, your scalp requires the same level of care. CRLAB's Daily Hair Care Line was designed to meet this important standard of need. With natural cleansing agents, the line is formulated for frequent use and gentle to the scalp.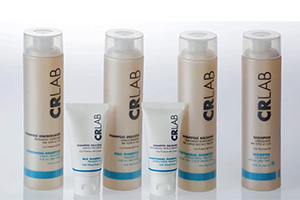 More Details
Mild Shampoo
The CRLab Mild Shampoo, cleans and hydrates without damaging the scalp, its gentle formula enriched with hydrolyzed wheat proteins nourish hair for it to stay healthy and strong.
Conditioning Shampoo
The CRLab Conditioning Shampoo, combines mild surfactants with conditioning properties. Hydrolyzed wheat proteins nourish the hair, forming a protective barrier around the hair follicle and at the same time restructuring the hair from deep within.
Refreshing Shampoo
The CRLab Refreshing Shampoo, thanks to the combination of essential oils such as peppermint and eucalyptus, both scalp and hair are left invigorated and fresh. Hydrolyzed rice proteins nourish the hair, forming a protective barrier around the hair follicle and at the same time restructuring the hair from deep within.
Havogen 5 is a clear transdermal patch worn behind the ear for 12 hours at a time. Thanks to powerful antioxidant agents and the Vitamin E, Havogen 5 strongly fights free radicals formation.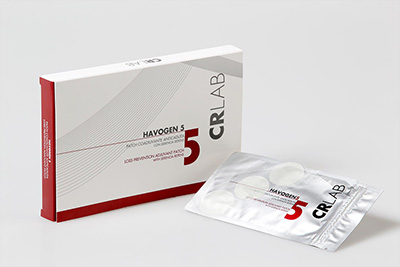 More Details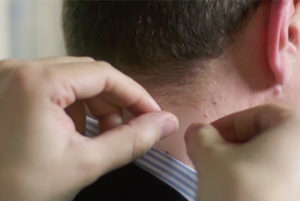 This treatment works proactively in both men and women to fight hair loss before it starts by delivering B vitamins and essential nutrients to fortify the hair and scalp. The patch balances moisture in the hair and scalp, and combines plant stem cells, serenoa repens (saw palmetto), and avocado extract to promote healthy hair growth. Havogen 5 fights excess bacteria that can clog pores and block new growth.
Hair Fact Dietary Supplements
Hair Fact Vitamins for Women and Men by Grace Biogen is a comprehensive, holistic approach to strengthening the hair roots promoting follicular growth. Hair Fact Cyclical Therapy is a comprehensive, holistic approach to strengthening the hair roots promoting follicular growth.
Nutritional deficiencies are one of the most common causes of hair problems. Yet many experts recommend expensive and controversial medications (such as Minoxidil and Finasteride) that treat the symptoms, but not the root cause (pun intended).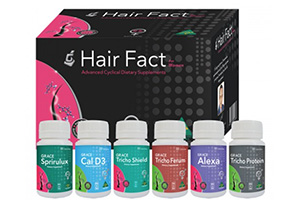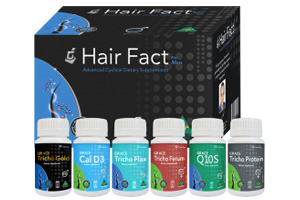 More Details
To utilize nutrients without interaction and overdose Australian company Grace Biogen have designed products and a program that uses different synergistic nutrients on different days of the week, repeating in a three day cycle.
Low dose synergistic combinations in a three day nutritional cycle with reduces dosage, improves efficiency, brings down total cost of the therapy, provides comprehensive coverage of all required supplements and is safe for long term use.
Cyclical nutritional therapy is a new way to look at safe, comprehensive nutritional supplementation avoiding nutrient interactions and improving efficiency without overdose. A balanced supplement regime leads to improved overall wellness.
Grace Hair Fact for Women by Grace Biogen is an Advanced Cyclical Dietary Supplement containing the following Supplements: Grace Sprirulux, Grace CAL D3, Grace Tricho Shield, Grace Tricho Ferum, Grace Alexa and Grace Tricho Proteins.
Grace Hair Fact for Men is an Advanced Cyclical Dietary Supplement containing the following Supplements: Grace Tricho Gold, Grace Cal D3, Grace Tricho Flax, Grace Tricho Ferum, Grace Q10S and Grace Tricho Protein.